Our team are fully qualified pro-advisors and are experienced users of cloud-based accounting systems
Would you benefit from having your accounting information available online anytime, anywhere? Giving you the confidence and freedom to focus on running your business
Giving small business owners and finance teams the ability to stay connected
Cloud Accounting is growing increasingly popular, giving businesses instant access to live accounting information thereby saving time, unnecessary paperwork and increasing efficiency. Giving small business owners and finance teams the ability to stay connected to their data and to us as their accountants.
Our team are fully qualified pro-advisors and are experienced users of cloud-based accounting systems and can assist you with choosing and implementing your solution. We've also created a short guide on reasons to switch to cloud accounting.
You can be confident that you have an up-to-date picture of how your business is doing
The real beauty of Cloud accounting is the flexibility it gives you to run your business from work, home, or on the go.
You can be confident that you have an up-to-date picture of how your business is doing, no matter where you are – or who is involved in supporting your business.It is clear that online accounting will continue to grow, and we are geared up to assist our clients.
We regularly work with packages such as Xero, Sage and QuickBooks and can advise on the best solution for you.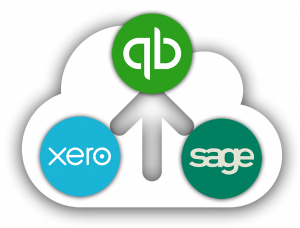 The benefits cloud computing include:
remote access to your accounts 24/7 from anywhere with an internet browser;
accurate, on-time, comprehensive and detailed management accounts;
efficiency gains and improved accuracy of data input;
monthly fees with minimal capital outlay;
easy scalability as the business grows;
a fully managed service to free your team for other activities;
automatic updates mean you can spend more time doing what you love, knowing your software is up to date;
everything is run online, so there's nothing to install and everything is backed up automatically. Updates are free and instantly available;
we can log on remotely to your live data to deal with whatever entries are required without you incurring down time;
Live bank feeds;
User friendly reports giving you an instant overview of how your business is performing;
Real time collaboration with your accountant, saving time and money;
Automatic back ups;
The potential to improve communications with your clients.
To find out more about Cloud accounting, or to speak about the options available when upgrading your software, contact our team today.
Find out how ABS Accountancy can help you